I've been in Mexico this week studying Spanish, and I have been trying to explore the horror genre here. I found a few articles covering Mexican horror movies, but I have not had any success in watching any: my iTunes rental of Cronos (1993) won't work, my version of El Espinazo del Diablo (2001) doesn't have subtitles, and the version of Santo vs. el Hacha Diabólica (1965) on Netflix only has Portuguese subtitles.

I did find a great bookstore here in Oaxaca though, called "La librería para los bibliofilos oaxaqueños," where I discovered some Spanish horror series. I bought Los Camintantes: Necropolis, which is actually the second in the Spanish zombie apocalypse trilogy Los Camintantes (The Wanderers). I also bought El Campamento del Zorro Vengadora, number three in the series Los Sin Miedo. Los Sin Miedo (Those Without Fear) is a Spanish middle-fiction series about Álvaro, Belén, Cris and David and their terroríficas aventuras. Los Sin Miedo looks like a great series for my students who are always asking for scary stories.

Mexican Horror Movies:
Horror films of Mexico (Wikipedia)
Mexican Horror Films (Eerie Books)
Essential Mexican Horror (Tomb of Bloke)
Top 15 Mexican Horror Films (W-Cinema)
When does obsession become madness? 

If only these things were not so tempting.Tragedy has forced sixteen-year-old Victor Frankenstein to swear off alchemy forever. He burns the Dark Library. He vows he will never dabble in the dark sciences again—just as he vows he will no longer covet Elizabeth, his brother's betrothed.

If only these things were not so tempting.

When he and Elizabeth discover a portal into the spirit world, they cannot resist. Together with Victor's twin, Konrad, and their friend Henry, the four venture into a place of infinite possibilities where power and passion reign. But as they search for the knowledge to raise the dead, they unknowingly unlock a darkness from which they may never return.
Oh man, August 21st can't come fast enough.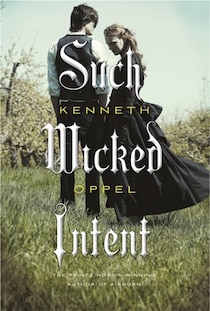 (Source: goodreads.com)
This weekend I read Algernon Blackwood's novella The Wendigo, and earlier this spring I read Rick Yancey's The Curse of the Wendigo, the second novel in the Monstrumologist series. I'm really interested in learning more about the Wendigo mythology. One of the aspects I really like about Yancey's Monstrumologist series is that at the beginning of the book he includes historical accounts or news reports about the creature, or monster, in the novel, giving the fantastic horror story a sense of realness. But in The Curse of the Wendigo, the monstrumologist himself doesn't believe that the Wendigo is anything more than a myth. 
"A creature appearing in Algonquin legends … thought of variously as a malevolent cannibalistic spirit that could possess humans or a monster that humans could physically transform into. Those who indulged in cannibalism were at particular risk, and the legend appears to have reinforced this practice as a taboo." — Wendigo, Wikipedia.org
The term "Wendigo psychosis" (also spelled many other ways, including "Windigo psychosis" and "Witiko psychosis") refers to a condition in which sufferers developed an insatiable desire to eat human flesh even when other food sources were readily available,  often as a result of prior famine cannibalism. Wendigo psychosis has traditionally been identified by Western psychologists as a culture-bound syndrome, though there is a debate over the existence of phenomenon as a genuine disorder. The theory was popular primarily among psychologists in the early 1900s, and may have resulted from a misinterpretation of northern Algonquian myths and culture.

One of the more famous cases of Wendigo psychosis involved a Plains Cree trapper from Alberta, named Swift Runner. During the winter of 1878, Swift Runner and his family were starving, and his eldest son died. Twenty-five miles away from emergency food supplies at a Hudson's Bay Company post, Swift Runner butchered and ate his wife and five remaining children. Given that he resorted to cannibalism so near to food supplies, and that he killed and consumed the remains of all those present, it was revealed that Swift Runner's was not a case of pure cannibalism as a last resort to avoid starvation, but rather of a man suffering from Wendigo psychosis.



The rest of the original post recounts the grisly 2008 murder of Tim McClean:
At 12:01 p.m. on July 30, 2008, Tim McLean, a carnival worker, was returning home to Manitoba after working at a fair in Alberta. He departed Edmonton on board Greyhound bus 1170 to Winnipeg, via the Yellowhead Highway through Saskatchewan. He sat at the rear, one row ahead of the toilet. At 6:55 p.m., the bus departed from a stop in Erickson, Manitoba with a new passenger, Vince Weiguang Li. Li, described as a tall man in his 40s, with a shaved head and sunglasses, originally sat near the front of the bus, but moved to sit next to McLean following a scheduled rest stop. McLean "barely acknowledged" Li, then fell asleep against the window pane, headphones covering his ears.

According to witnesses, McLean was sleeping with his headphones on when the man sitting next to him suddenly produced a large knife and began stabbing McLean in the neck and chest. The attacker then decapitated McLean and displayed his severed head to other passengers outside who had fled the bus in horror. The driver and two other men attempted to rescue McLean but were chased away by Li, who slashed wildly at them from behind the locked bus doors. Li then went back to the body and began severing other body parts and consuming some of McLean's flesh.

At 8:30 p.m., the Royal Canadian Mounted Police (RCMP) in Portage la Prairie received a report of a stabbing on a Greyhound bus west of the city. They arrived to find the suspect still on board the bus, being prevented from escaping by another passenger, the bus driver, and a truck driver who had provided a crowbar and a hammer as weapons. The other passengers were huddled at the roadside, some of them crying and vomiting. As the suspect had earlier attempted to escape by driving the bus away, the driver had engaged the emergency immobilizer system, rendering the vehicle inoperable. Witnesses had observed the suspect stabbing and cutting McLean's body, and carrying McLean's severed head.

By 9:00 p.m., police were in a standoff with the suspect and had summoned special negotiators and a heavily-armed tactical unit. The suspect alternately paced the length of the bus and cut and defiled the corpse. Police officers then observed Li eating parts of the body. Meanwhile, the stranded passengers were transported from the scene to be interviewed at the Brandon RCMP detachment.RCMP officers reportedly heard Li say, "I have to stay on the bus forever."

On July 31, 2008, at 1:30 a.m., the suspect attempted to escape from the bus by breaking through a window. The RCMP arrested Li soon afterward. He was shot with a Taser twice, handcuffed and placed in the back of a police cruiser. Parts of the victim's body, placed in plastic bags, were retrieved from the bus, while his ear, nose and tongue were found in Li's pockets. The victim's eyes and a part of his heart were never recovered and are presumed to have been eaten by Li.

Witness Garnet Caton said the attacker seemed oblivious to others when the stabbing occurred, adding he was struck by how calm the man was. "There was no rage or anything. He was like a robot, stabbing the guy," he said. When he appeared in a Portage la Prairie courthouse on charges of second-degree murder, the only words Li reportedly uttered were pleas for someone to kill him.

In an interview with a schizophrenia society, Vince Weiguang Li said he had heard what he believed was "the voice of God" before killing Tim McLean, 22.

Mr Li was deemed not criminally responsible for the murder after being diagnosed with paranoid schizophrenia.

He has since been treated at a mental health centre near Winnipeg, Manitoba.

In the interview given to Chris Summerville, head of the Schizophrenia Society of Canada, Chinese-born Mr Li said he had bought the knife used in the attack for protection "from the aliens".

He said he had been unaware at the time that he suffered from schizophrenia.

"The voice told me that I was the third story of the Bible, that I was like the second coming of Jesus [and that] I was to save people from a space alien attack," he said, according to a transcript of the interview published by Canadian media.

"I was really scared. I remember cutting off his head. I believed he was an alien. The voices told me to kill him, that he would kill me or others. I do not believe this now."
Last night I finished Jonathan Maberry's Dust & Decay, number two in the Benny Imura, Rot & Ruin series. I'm still reeling. 
The action starts right in the first few pages and does not let up for a moment. Dust & Decay brings back our heroes Tom (Fast Tommy) Imura, little brother Benny Imura, and love interest Nix Riley, along with Lilah, the Lost Girl, and Lou Chong, childhood friend of Benny. The gang battles even more zombies and evil bounty hunters in this sequel to Rot & Ruin, though over 500 pages, the short chapters and constant action keep the novel moving at a swift pace.
As I was reading Dust & Decay, I was getting all worked up and anxious: Oh no! What's going to happen to poor Chong? Where's Lilah? Tom, hurry up and find them! I wanted to put the book down just so I could have a breather, but I had to keep going. 
Dust & Decay won a 2011 Bram Stoker Award for Best Young Adult Novel and is a YALSA 2012 Readers' Choice for Horror/Thriller (along with my other faves This Dark Endeavor and Isle of Blood by Rick Yancey). Along with all the violence and blood, Dust & Decay has great characters and real character development. While most YA novels are written from a first-person perspective, Dust & Decay is a third-person omniscient narrative, so as readers, we get to get inside all of the characters' heads, know what they're feeling and thinking, and see them grow. To me, writing action and fight scenes takes real skill, and Maberry excels in this regard. Every graceful attack of Tom Imura's katana, every jab of Lilah's spear, the pain of every wound, and the clawing of the white decaying hands of the living dead is vividly real.
Other reviews have pointed out that the 517 page count will intimidate reluctant young adult readers, but once they get started, they won't be able to stop.
I anxiously await number three in the series, Flesh & Bone, due out in September.